I am currently recommending and stocking 5 fully natural Organic Food Supplements produced by Synergy worldwide, as follows: Pro-Argi-9, Phytolife, Mistify (together known as the V3), Slmsmart and E9 together with a very interesting book by Dr. Louis Ignarro "NO More Heart Disease"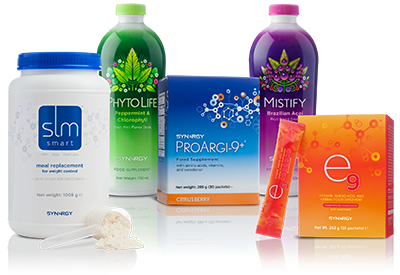 Pro-Argi-9
provides the body with the necessary ingredients to produce Nitric Oxide. Dr. Louis Ignarro, who was awarded the Nobel Prize for Medicine in 1998 calls Nitric Oxide the body's "Miracle Molecule". Because the body produces the molecule, there are no known contra-indications against any medication or prescribed drugs. The body simply begins to heal, leading to a return to normal health, which can be medically witnessed and verified.
Phytolife
balances the pH of the body, cleanses the blood, detoxifies organs and contributes to normal digestion functioning.
Mistify
helps counter cell inflammation and boosts the immune system.
Slmsmart
is a meal replacement for weight reduction and control.
E9
is an energy drink which helps provide Stamina to meet life's demands
The Purify Kit is a 3 week protocol utilising 5 clinically formulated nutrition for the microbiome. Taken with dietary guidelines it rids the body of toxicity, including heavy metals. These are 1 Body Prime, 1 Biome Shake, 1 Biome DT, 1 Biome Actives, 1 ProArgi-9+ SSP.
If would like more information, check out
http://www.synergyworldwide.com/en-us/Content/products/productadvantage
For further information or to place an order for the book or any of the food supplements please
click here
.