Upcoming Classes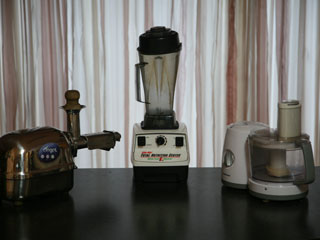 Upcoming Classes
MaryAnne OFFERS A THREE WEEK COURSE in her home on a regular basis:
The emphasis is on the use of Gluten Free Plant Protein, using Nature's gifts of Vegetables,
Fruits, Nuts, Seeds and gluten free Grains. All ingredients, and recipes, are provided.
You may wish to bring along a notebook and pen.



The aim is to Demonstrate the Ease and Simplicity of
INTRODUCING NEW METHODS OF
FOOD PREPARATION INTO YOUR DIET
to Empower you to Improve your Health, Vitality and Energy levels.



Topics covered include:

An Introduction to the Digestive System and its processes
Sprouting
Juicing
How simple it is to make Milk from Nuts and Seeds
Alternatives to Animal protein for Main Course meals
Healthy ways to make Soups - Salads - Dressings
Healthy recipes for Breads and Crackers
Tasty Nutritious Lunch Box Treats
After the Demonstration, participants sit down and sample the food together in a relaxed environment.
They are encouraged to prepare the dishes in their own kitchens and to report back with any comments
from their family or friends, (but this is not obligatory).


Classes take place in her First Floor Kitchen at the following times:

Tuesdays: 14.30 – 17.30
Wednesdays:15.00 – 18.00
Thursdays: 18.00 – 21.00

These days and times are flexible to suit your schedule and particular circumstances.
Saturdays or Sundays are also available if required.

Class Size: 5 persons maximum
Location: 2 Jocelyn Mews, Dundalk
Cost: €30 per person per class, or €75 for the 3 week course.

Please click here to CONTACT ME or phone me on 042 935 6655